No results were found for the filter!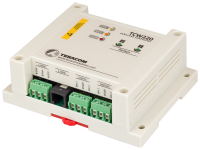 Teracom: TCW220
Ethernet data logger with 1-Wire interface, 2 digital inputs, 2 analogue inputs and 2 relay outputs. This offer is valid from 01.01.2019 to 31.01.2019. Prices are already shown with discount. Subject to changes or revocation. TCW220 can...
163.95€


147.55€


excl. VAT
195.10€


175.58€


incl. 19% VAT
HW group: STE2
Ethernet / WLAN Thermometer und Hygrometer mit 2 digitalen Eingängen. Dieses Angebot gilt vom 01.01.2019 bis zum 31.01.2019. Preise werden bereits mit Rabatt angezeigt. Änderungen oder Widerruf vorbehalten. Das STE2 der HW group...
198.00€


178.20€


excl. VAT
235.62€


212.06€


incl. 19% VAT